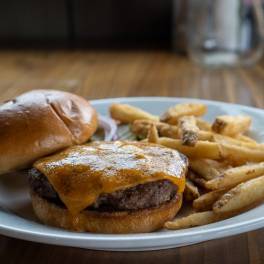 Outback Steak & Oyster Bar
1914 W 76 Country Blvd, Branson, MO 65616
417-334-6306
Price ranges: $20-40
-
Will be closed in 1 hr
Types: International
About
From one-of-a-kind appetizers to unique takes on Aussie favorites, we serve up the best flavors in the Northern Hemisphere — right here in Branson. Grilled chicken, seafood, and fish entrees, as well as fresh oysters and - of course - steaks.
Outback Steak & Oyster Bar offers unique entrees, great steaks, and fresh oyster dishes, all served up in a one-of-a-kind casual environment. With decor pulled straight from our trips to Australia, we deliver all the flavor and adventurous spirit of the great island continent, without a 20-hour plane ride.
We take your choice of our prime cuts of beef, then cook them to perfection on The Barbie — an open grill located in the center of our dining room. With a full complement of Aussie-inspired side dishes, there's no wrong way to enjoy one of our great steaks.
We proudly offer beef from our own family farm, Ozark Red Devon Ranch. We serve grass-fed, grass-finished beef burgers, plus a daily featured steak from our naturally-raised, hormone-free herd.
THE OYSTER BAR
Half-shell, Rockefeller, Fried – any way you could want oysters, we've got them. Our newly remodeled oyster bar brings the flavors front and center, with unique seasoning combinations and presentation that you won't find anywhere else.
Outback Steak & Oyster Bar Gallery
Location
1914 W 76 Country Blvd, Branson, MO 65616
Contact Phone
417-334-6306
Types
International
Establishment Features
Group Menus, Group Space
Locations
The Strip - Hwy 76 Country Blvd.