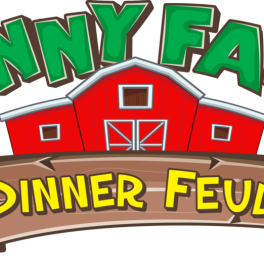 Funny Farm Dinner Feud
5586 76 Country Blvd, Branson, MO 65616
417-334-4191
Price ranges: $40-60
-
Closed
Types: American
About
Welcome to the first, and maybe the last, feudin Hillbilly family talent contest! You know, folks have been comin to these hills for years, just to sample our style of Ozark hills entertainment…why we got sangin, and dancin' and funny stories, sure to put a smile on yer face! For years now, there's been a well known feud goin on twixt 2 familys round these parts. You'll meet the Stewarts and the Gibbs, two clans that have been clashing for generations. Today, they have decided to put down the 12 gauge and pick up the mikerfone to settle once and for all, with Pure Hillbilly Talent, who's the heap best family in these hills!
After the singing contest, Cindy Loo Stewart and Leroy Gibbs are caught kissing! At the suggestion of the Reverand, the families decide to settle the feud once and for all – with some hillbilly games. Audience members will be selected to play alongside the two families in a whacky and hilarious time. The rest of the audience will be hootin' and hollerin' as the two families use a test of hilarious Hillbilly skills to settle the feud!
You'uns will enjoy a homecooked meal while cheering on the families for the Hillbilly Talent contest! So get yer Hillbilly on and come on out to The Funny Farm for a barnyard of laughs and acres of family fun!
Funny Farm Dinner Feud Coupon
Funny Farm Dinner Feud Coupon in Flavor of Branson Dining Guide
Shepherd of the Hills Dinner Shows Coupon in Flavor of Branson Dining Guide on BransonRestaurants.com - $5 OFF dinner show
Show more
Hide
Location
5586 76 Country Blvd, Branson, MO 65616
Contact Phone
417-334-4191
Types
American
Locations
The Strip - Hwy 76 Country Blvd.