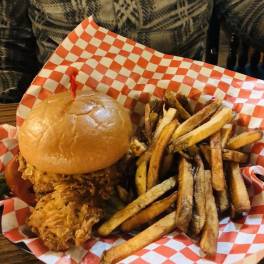 Local Flavor
2830 W Hwy 76 Country Blvd, Branson, MO 65616
417-464-6020
Types: American
About
Indulge yourself, and the people you love, with delicious home-made cooking. We make everything here from scratch so the food you get is always fresh and delicious!
Home Cooking in Branson, MO
---
A cozy place to bring your loved ones and enjoy some comfort food, homemade desserts and live music! We will make you feel like you are at Grandmas house!
Homemade
We care about making all of our food from scratch. If you're looking for a good old homemade meal, then we are the restaurant for you!
Made fresh
All of our ingredients are freshly chosen! We start cooking early every day, so that we can make fresh food that you and your family will love and enjoy.
Family recipes
Our recipes and the wonderful dishes we make are created and curated by our founder Michelle! Come see what all of the fuss is about at Local Flavor Branson today!
Local Flavor Coupon
Local Flavor Coupon in Flavor of Branson Dining Guide
Local Flavor Coupon in Flavor of Branson Dining Guide on BransonRestaurants.com - 10% OFF
Show more
Hide
Local Flavor Gallery
Location
2830 W Hwy 76 Country Blvd, Branson, MO 65616
Contact Phone
417-464-6020
Types
American
Establishment Features
Group Space
Locations
The Strip - Hwy 76 Country Blvd.