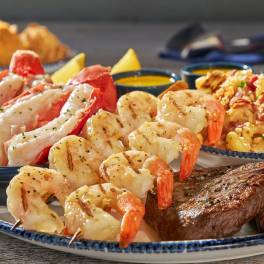 Red Lobster
3559 Shepherd Of The Hills Expy, Branson, MO 65616
417-337-5988
Price ranges: $20-40
-
Open
Types: Seafood
About
Everything we do is a celebration of seafood – from
how we source our fish and shellfish to serving
up new ways for you to enjoy it. Since 1968,
we've been committed to bringing you a
seafood experience you won't find anywhere else. That's how we Sea Food Differently®.
Traceable. Sustainable. Responsible.
These are more than just words on our menu – it's our promise that all of the seafood we serve is sourced with standards. Because, as one of the world's largest seafood purchasers, we believe it's our responsibility to protect and preserve our oceans and marine life for generations to come.
Traceable – all our seafood is 100% traceable to a known and trusted source.
Sustainable – we only source from suppliers who follow industry best practice.
Responsible – we support and follow regulatory efforts that manage fish populations and mandate our suppliers comply with all applicable laws.
Red Lobster Gallery
Location
3559 Shepherd Of The Hills Expy, Branson, MO 65616
Contact Phone
417-337-5988
Types
Seafood
Locations
Shepherd of the Hills Expwy Area
Do you own this restaurant? Claim it now