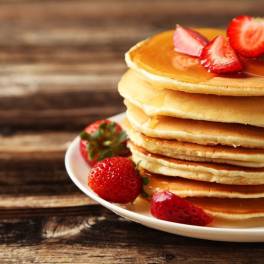 Starvin Marvin's
3400 W 76 Country Blvd, Branson, MO 65616
417-334-7402
Price ranges: $20-40
-
Open
Types: Seafood
About
OUR STORY
A local family owned business for over 37 years. Our catch phrase is "Seafood with a Cajun attitude." We offer three daily AYCE buffets, as well as great menu options with family recipe Cajun dishes along with traditional country style dishes.
In 1984 Larry and Jeanette Rogers made the move of their dreams. They loved the Ozark Mountains and vacationed here often. While they owned their own restaurant in Lafayette, Louisiana their hearts belonged to Missouri. With each other, they took a leap of faith. Starvin' Marvin's was originally in a log cabin one and a half miles west of Silver Dollar City. Their children Amy, Kellie and Duane all worked in the cabin and were taught hospitality and good work ethic. As Branson began to boom, Starvin' Marvin's moved to the "strip." Locals came from miles around to enjoy the quality of their homemade food. Cashew and Sweet & Sour chicken, hand battered onion rings, smoked bbq ribs and saddle blanket sized pork tenderloin were just a few of the favorites. In 1994, a decade later, Larry and Jeanette decided to bring some of their own heritage cajun cooking into Marvin's. Known for their "seafood with a Cajun attitude" the addition was a success. Customers come year after year for the All You Can Eat Seafood Buffet. Out theme today is "The best legs in town."

Larry and Jeanette, along with their children would like to thank the locals and tourists alike for making Starvin' Marvin's what it is today. Starvin' Marvin's is the longest independently owned restaurant in Branson.
In August of 2019, after many years of serving their customers, their son Duane purchased Starvin' Marvin's from them to continue the family legacy.
The Legacy of Starvin' Marvin's will last as long as God allows... to Christ be the glory!
For they had a dream, set out to achieve it, and succeeded.
Starvin Marvin's Coupon
Starvin Marvin's Coupon in Flavor of Branson Dining Guide
Starvin Marvin's Coupon in Flavor of Branson Dining Guide on BransonRestaurants.com - BOGO half price
Show more
Hide
Starvin Marvin's Gallery
Location
3400 W 76 Country Blvd, Branson, MO 65616
Contact Phone
417-334-7402
Types
Seafood
Locations
The Strip - Hwy 76 Country Blvd.